Adult Family Homes
Adult Family Homes are residential homes licensed to provide care for up to six non-related residents. These homes offer various services, including room, board, laundry, necessary supervision, and help with activities of daily living such as personal care and social services.
Adult Care Homes meet the highest standards of safety and quality of care for their residents. They also ensure that all staff members are appropriately trained. Residents can expect personalized attention from experienced caregivers who understand their individual needs and preferences.
In addition, adult care homes must adhere to strict guidelines regarding the following:
Nutrition
Hygiene
Medication management
& Other aspects of daily life
With the help of DSHS regulations, an adult care home provides a safe and comfortable environment for seniors or individuals with developmental disabilities who need assistance with daily activities.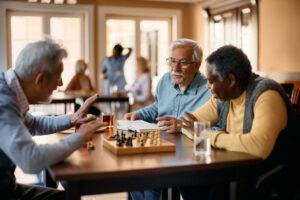 Why Choose an Adult Care Home?
An adult care home is an excellent option for seniors who want to live in a home-like setting. Care providers or registered nurses usually own them, and they have been remodeled and approved for senior living. The benefit of an adult care home is the resident ratio. Adult care homes can only have six residents at a time. This ensures quality, comprehensive, and personalized care for the new tenants.
What is Different About An Adult Family Home?
The atmosphere of this type of elder care facility is the level of care. It provides seniors with the comfort of being in a home-like setting while still having access to the necessary medical care and other special care needs. Furthermore, it allows them to be surrounded by people who understand their needs and can provide them with individualized 24-hour care and attention. With all these benefits, it's no wonder why so many seniors choose Adult Family Homes as their preferred living arrangement.
Adult Family Care Vs. Assisted Living
When it comes to finding senior care for a loved one, it is essential to consider the needs of the individual. Adult family homes are an excellent option for seniors who require immediate and personal care, as they provide a familiar environment with a finite amount of tenants. This setting is especially beneficial for those with neurodegenerative conditions like dementia, as it ensures that their needs are met in an intimate setting.
On the other hand, assisted living communities to provide seniors with more independence and freedom than adult family homes. The staff at these facilities are there to help with whatever tasks or errands the seniors need, but they do not require constant supervision or assistance. Assisted living is ideal for those with some degree of autonomy and who can manage most daily activities independently. Ultimately, it depends on the individual's needs and preferences when deciding between adult-family homes and assisted living communities.
How to Choose the Best Adult Family Home for Your Loved One
Choosing the proper adult home care can be difficult, especially when the individual in need of care is a loved one. It's essential to find the right caregiver who will provide quality care and meet the needs of the individual. Here are some tips to help you choose the best adult care option:
Research Caregivers
It's essential to research the caregivers who will provide care. Check references, read reviews, and ask friends for their recommendations. You want to be sure that the caregiver is trustworthy, reliable, and professional.
Evaluate Care Needs
Evaluate the care needs of the individual. Consider the needed types of care, such as personal care, medical care, or companionship. You want to ensure that the caregiver can provide the appropriate level of respect for the individual.
Consider Scheduling
Consider the scheduling needs of the individual. You want to ensure the caregiver is available when care is needed. Consider the types of flexible scheduling that the caregiver offers.
Ask Questions
Make sure to ask questions to better understand the caregiver and their services. Ask about their experience, training, and qualifications. It would be best if you also asked about the types of care they provide and their policies on cancellation and payment.
Consider Cost
Cost is substantial when choosing adult home care. Compare rates and services offered to get the best value for your money.
If you follow these guidelines, you will be able to locate the adult home care alternative that is most suitable for the individual's requirements as well as their financial situation. To ensure that you make the most outstanding choice possible, you must devote sufficient time and effort to researching and questioning relevant parties.
Senior Placement Agency
As you look for the best adult home to place your loved one in, you need the help of a trusted senior placement agency. Senior placement agencies are becoming increasingly popular for families and individuals seeking help in aged care.
These agencies provide services ranging from finding the proper care facility to providing financial assistance and advice. As the elderly population continues to grow, more and more families are turning to these agencies for help.
How Can Kairos Help Me?
The primary purpose of a senior placement agency like Kairos is to help the elderly find the best possible care facility. It includes assessing the needs of the elderly and finding the best care facility to meet those needs. We employ knowledgeable staff who can offer advice on the available care facilities, such as assisted living, nursing homes, and retirement communities. We can also help with the application process, ensuring that the older person is placed in the most suitable facility.
Additionally, Kairos can provide emotional support for older adults and their families. They can advise on coping with the various changes that come with aging, such as the death of a loved one. They can also provide resources for older adults and their families, such as support groups, counseling services, and educational programs.
Kairos provides invaluable resources for families and individuals seeking help in aged care. We can provide the knowledge and guidance needed to ensure that the older person is placed in the best possible care facility and to provide financial and emotional support. For those looking for help in senior care, reach out today.