Assisted Living
Assisted living is long-term care housing for seniors who need help with activities of daily living (ADLs). It provides a safe, supportive environment that allows seniors to remain as independent as possible while receiving the assistance they need.
Assisted living facilities are designed to provide personalized care and services tailored to each individual's needs. This includes help with basic tasks such as:
Bathing
Dressing
Grooming
Medication management
In addition, assisted living communities offer social activities, recreational programs, meals, housekeeping services, transportation services, and more.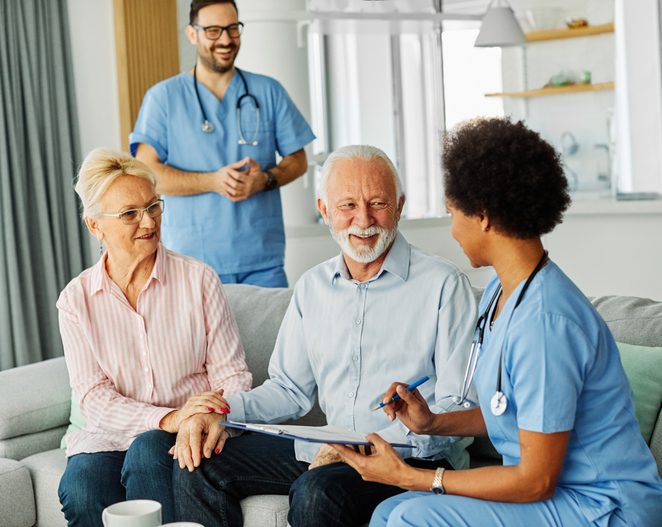 Why Choose an Assisted Living
These skilled nursing facilities aim to promote independence while providing the necessary support for seniors to live safely and comfortably. The staff at an assisted living facility are trained professionals who understand the unique needs of older adults and can provide compassionate care.
What Assisted Living Doesn't Provide
Assisted living is an excellent option for seniors who need help with daily activities, such as bathing, dressing, and medication management. However, it is essential to note that assisted living does not provide the same level of care as skilled nursing or nursing home care. Residents receive full-time care from specially trained medical staff in a skilled nursing facility. This care is often necessary for those requiring closer medical attention, either short-term or long-term. These facilities are licensed by Medicare and Medicaid and are focused on providing short-term rehabilitation and long-term medical care.
What's an Assisted Living Community Like?
Assisted living communities offer a variety of amenities, including:
social and recreational activities
fitness centers
libraries
beauty salons
& more
Residents can also enjoy meals prepared by professional chefs in communal dining rooms or private apartments.
The staff at assisted living communities are trained to provide personalized care tailored to each resident's needs. They are available 24 hours daily to assist with medication management, housekeeping services, transportation needs, and other daily tasks.
In addition to providing physical assistance and emotional support, staff members strive to create an atmosphere of respect and dignity for all residents. With almost 29,000 assisted living communities in the U.S., one is sure to fit your preferences and meet your needs.
Benefits of Assisted Living
Assisted living can be an excellent option for seniors who need help with daily activities and tasks. It gives them the support they need to remain independent while providing peace of mind to their family members.
The 2019 Quality of Life in Assisted Living Survey found that when seniors moved into assisted living, 87% of residents and 78% of family members reported being satisfied or very satisfied with their overall experience in the community. This is encouraging news for those considering assisted living as an option for their loved ones.
Signs It Might Be Time to Consider Assisted Living For Your Loved One
Signs it's time to consider assisted living include:
Falls
Difficulty managing medications
Changes in behavior or mood
Difficulty performing daily activities (such as bathing or dressing)
Increased isolation from friends and family
& More
If you have noticed any of these issues in your loved one over the past year, it may be time to look into assisted living options. Assisted living can provide a safe environment where your loved one can receive the care they need while maintaining independence and quality of life.
Tips For Choosing the Right Assisted Living
Choosing a facility is a big step, and knowing what kind of senior care you want is essential. Here are a few things to consider before making the decision:
1. Ensure it's Close to Home
You want to ensure that your loved one is near home for several reasons. First, it reduces the stress of moving them far from familiar surroundings and people and helps with their sense of independence.
2. Consider their Personal Care Needs
As you look for a facility, think about your loved one's needs and how they can best get met in a particular facility. For example, you might consider the possibility of specialized care if your loved one has dementia or Alzheimer's disease.
Besides that, look for a facility that has multiple levels of care. This way, your loved one can stay in one facility as they age and still receive all the care they need.
3. Consider the Communities
Besides choosing a particular facility, it's essential to consider the communities you want.
Think about how much social interaction your loved one wants. If the loved one doesn't care about seeing other people, look for a facility that offers more privacy.
4. Consider Extra Amenities
Some facilities offer extra amenities like massages and hair salon services. While these things may not seem that important, they help ease boredom and loneliness.
It would help if you also thought about the amount of assistance provided by the facility staff. For example, many facilities offer assistance with laundry and other chores, but after a certain period, you will have to pay an additional fee to continue receiving this service.
5. Read Reviews Online
Reviews are an excellent source of information about the level of care provided. By reading them, you can gain valuable insight into other people's experiences and learn more about their opinions on various aspects of the facility. However, remember that everyone experiences a facility differently, and your experience might differ from theirs.
6. Monthly Cost
Consider the cost of the facility and your loved one's financial needs. Ask about the monthly fees and whether there are any additional fees for special services.
This inquiry will allow you to compare their prices and make a well-informed decision within your financial capabilities.
7. Book a Tour
While reading reviews is an excellent way to learn about things that interest you, nothing beats seeing the facility in person. So book yourself and your loved one a tour so they can see the facility and make an informed decision afterward.
Tips for Transitioning into Assisted Living
After finding the right place, the next step is moving there. Although this process may seem straightforward, you may need some help. Here are a few things to keep in mind:
1. Talk to your loved one
It's essential to involve your loved one in the decision-making process. Although you may have already decided on a facility, it's only fair to let them choose their room and ensure they agree with your choice.
Consider making a plan with them several months beforehand so they can adjust to the idea before it becomes a reality.
2. Be Prepared for the First Few Nights
Try to set up a visit for your loved one on the first night. You can remind them what to expect and review their medication schedule. If this isn't possible, call the facility in advance to ensure everything is in order.
3. Carry Personal Items
Personalize the room with items that make you feel at home. Bring photos, artwork, and small furniture items to make the space feel more like your own.
4. Keep in Touch with Family and Friends
Residents need to maintain connections with family and friends. Communication can get done through regular phone calls, video chats, or visits. Keeping contact with people they love can help reduce loneliness and improve overall well-being.
5. Participate in Social Activities and Events
Many facilities offer a wide variety of social activities and events. These range from games and movie nights to educational classes and community outings. These activities help residents build friendships and stay engaged in the community.
6. Have a Plan in Place for Emergencies
Most facilities have emergency response plans in place, but residents also need to have their goals. It may include keeping a list of emergency contacts and important medical information readily available.
Bottom-line
Assisted living facilities offer a wide range of services to ensure their residents are safe, healthy, and comfortable. In addition, they offer secure, personalized, and flexible care for seniors who want to maintain their independence, stay connected and improve their overall well-being. Contact us today for more information. Together let's care for our elderly.